Sea Turtles Blog (EYFS)
Welcome to the our blog! We hope to share all the wonderful things that we are learning about in EYFS.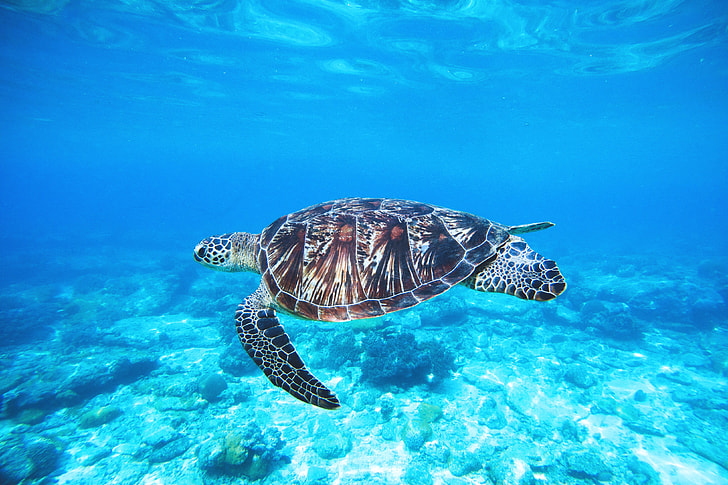 Our Class Teacher is Miss Jones and our Teaching Assistants are ​Mrs S. Smith and Ms Grieve.
Ms Grieve will be helping us in the afternoons in small groups. We are looking forward to meeting you all very soon in Reception.
Here Is our exciting CURRICULUM MAP 2019-20.
Term 1 2019
September 2019
Friday 13th September
Well done to the Sea Turtles, this week was their first full week in school. As as class they began learning Read, Write, Inc, learning the sounds m, a ,s and t. For Maths counting songs have been popular.
The teachers have been very busy getting to know the children, so it has been fantastic to do our own learning inside and out. We have been busy using mirrors to look at our faces and the features that make us unique. Remember to send in family photos next week for our "Marvellous Me" activities.
Next week we will be going on our first school trip to Victoria Art Gallery, in Bath. This is a regular visit we make and I am sure it will be a special experience for all the children.
Here are some photographs from the week.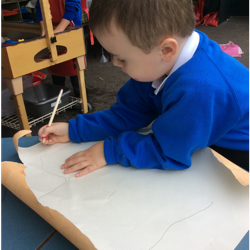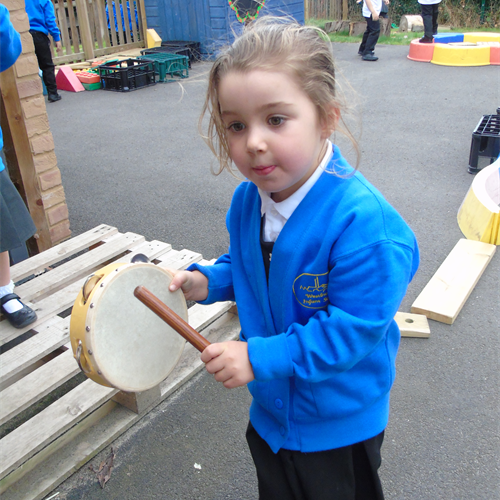 Welcome to our new Sea Turtles. The children were brilliant this week, it was a big week for them.
Please check your book bags for reading books. You can note down when you have read the book given in class or shared a book from the library. Children can change these each day, but we will be checking diaries each Monday and Thursday.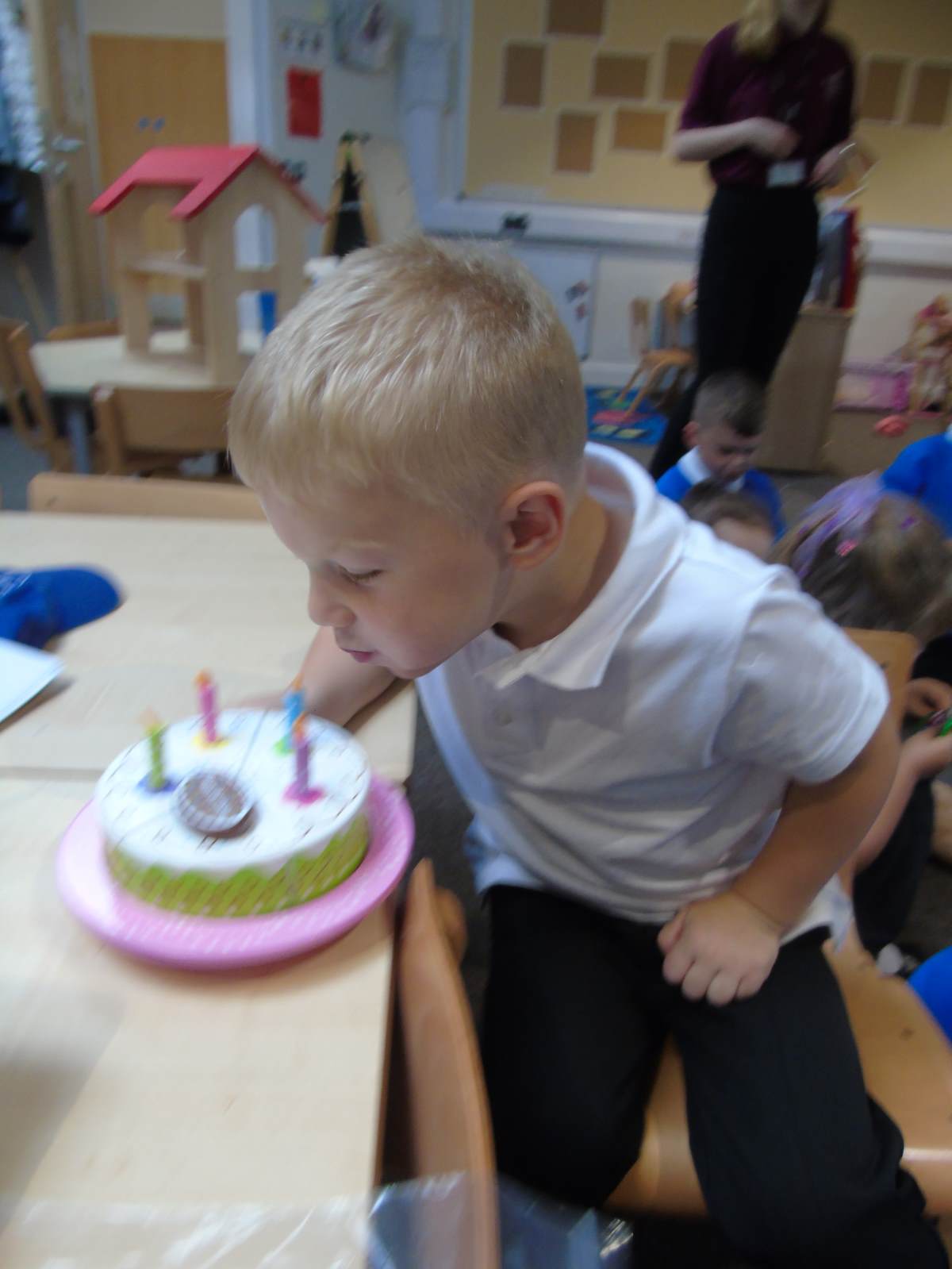 Celebrating August birthdays , some of us turned 4 years old.
More photographs of our first days in school will follow very soon!
2018-2019
July 2019
Homework - E Safety Day
Today learnt about Smartie the Penguin and how he stayed safe playing with his tablet.
He learnt to ask a grown up if something strange popped up on his game.
Make your own poster or take a photo of you playing safely on-line.
"Before you click... stop think ... and Tell someone!" says Smartie
Look out for some posters, appearing here soon.
Making boats to rescue people at sea.
On Monday Heather from the Maritime and Coastguard agency taught us about how boats and people are kept safe at sea. Some of us chose to make our own boats, even one included a winch and a duplo man to rescue people at sea. Great ideas.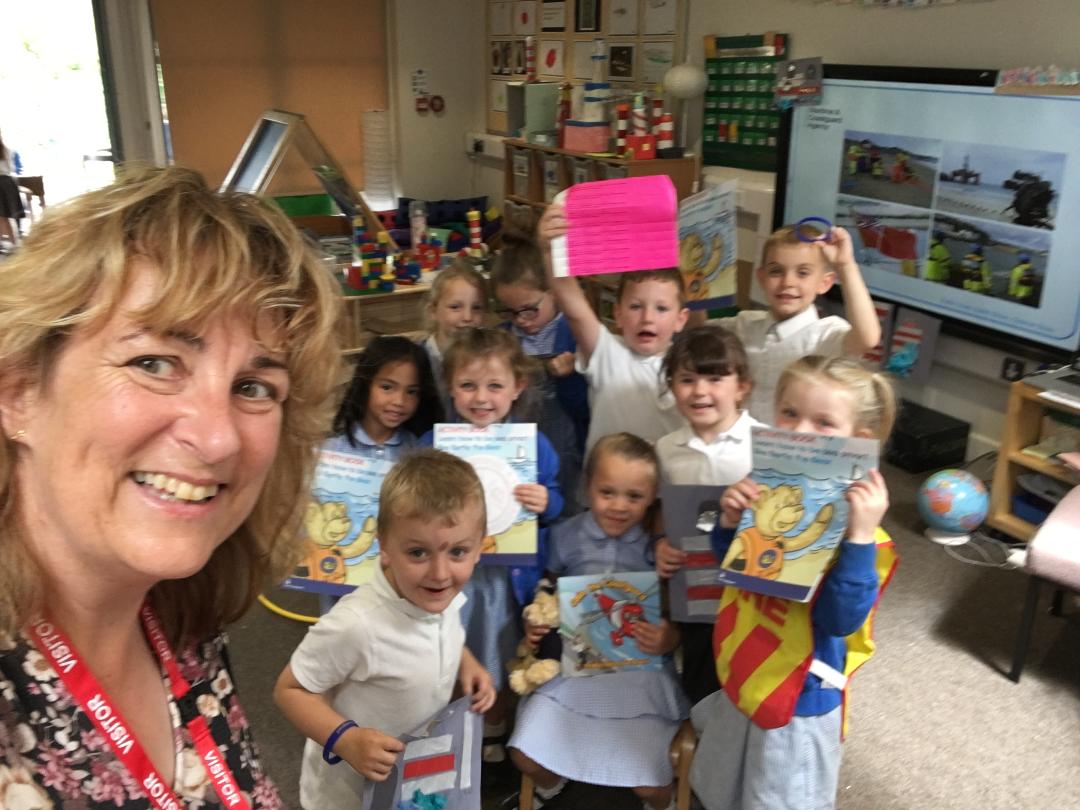 Teddy Bears Picnic
Today we welcomed in some of our new starters to join in with a Teddy Bears Picnic.
It was great to see so many families. We enjoyed eating, playing with the parachute and listening to a story. Thanks to our Sea Turtles and Starfish for being fantastic with the new children.
Today we learnt about special people who keep us safe at sea
Today we had a visitor from the Coastguard and Maritime Agency. Heather told us about the people who keep us safe at sea. We were reminded how to stay safe on the beach, going between the yellow and red flags. We find out about ringing 999 for the coastguard if somebody is in danger at sea. We were given lots of goodies, including a special bear.
June 2019
The sun came out, but our learning goes on ... outside!
A great end to our week. The lighthouses from home were taken to show off in our celebration assembly. We looked at the weather forecast and then made a pictogram to find out the most popular weather in the class, it was sow followed by the sun.
We revisited our healthy eating and sorting food and drink to good and not so good choices, giving reasons. We reminded ourselves that we can eat our favourites chocolates and chips, but not too many.
Lots of us enjpyed learning outside, whether it was counting, using the waterbeads, sand or bikes, which were shared by writing a list and using a timer.
Wow, we have been so busy, all this after our Read, Write, Inc.
Next week we are going to have a visitor to talk about the special people who keep us safe at sea, as she works for The Coastgaard and Maritime Agency.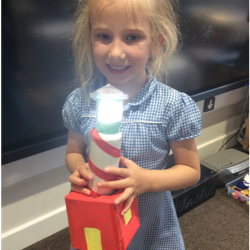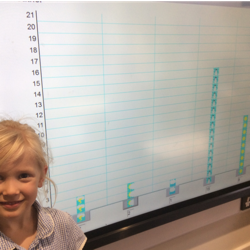 Lighthouses
This week we have been bringing in our lighthouse made at home. They are fantastic.
More will appear our our blog over the coming days.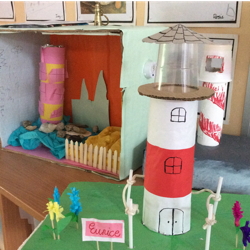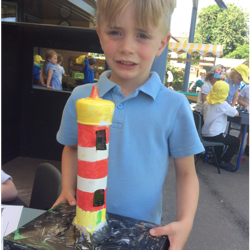 Counting on and finding pairs of ten
This week in Maths we have been learning to count on. Outside we used dice to subitise numbers and count on. After using the playdough to make 10 tree, we used these to find the number bonds.
Learning outside
This week a lot of learning has taken outside. We have explored ways to make bubbles, used ramps and created obatacle courses. For our Gem Challenge our prize was to use the parqachute.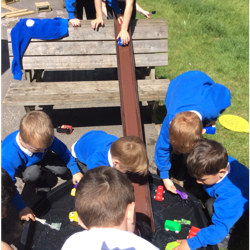 Lighthouses
Our story this week has been The Lighthouse Keeper's Lunch. We have been busy writing about Mr Grinling and the seagulls and making our own lighthouses. Lots of us our making lighthouses at home, so look our next week for more photographs.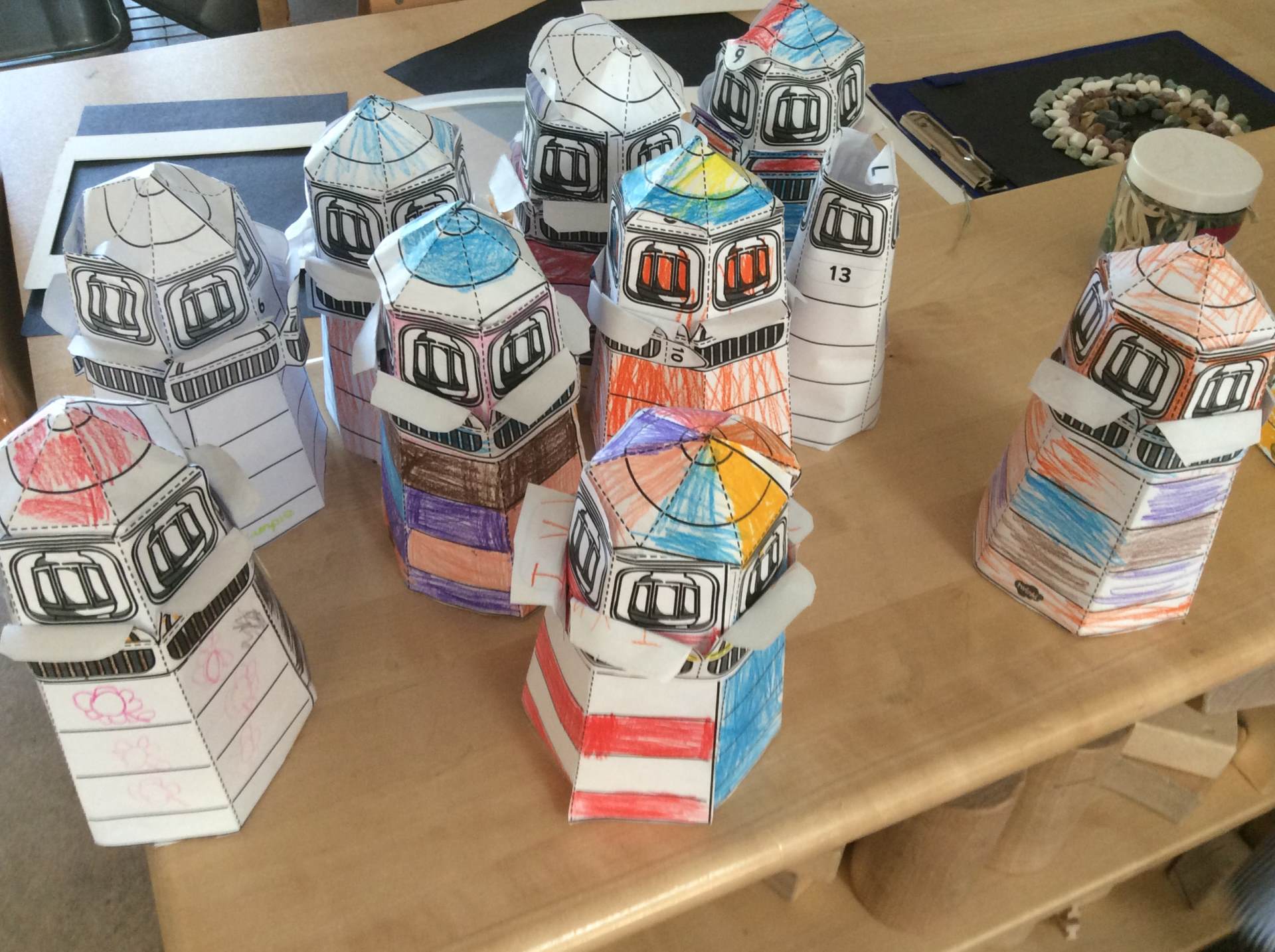 Pebbles around a hole
This term our artist is Andrew Goldsworthy. This week we have created big and small artwork using pebbles and other seaside objects inspired by his work.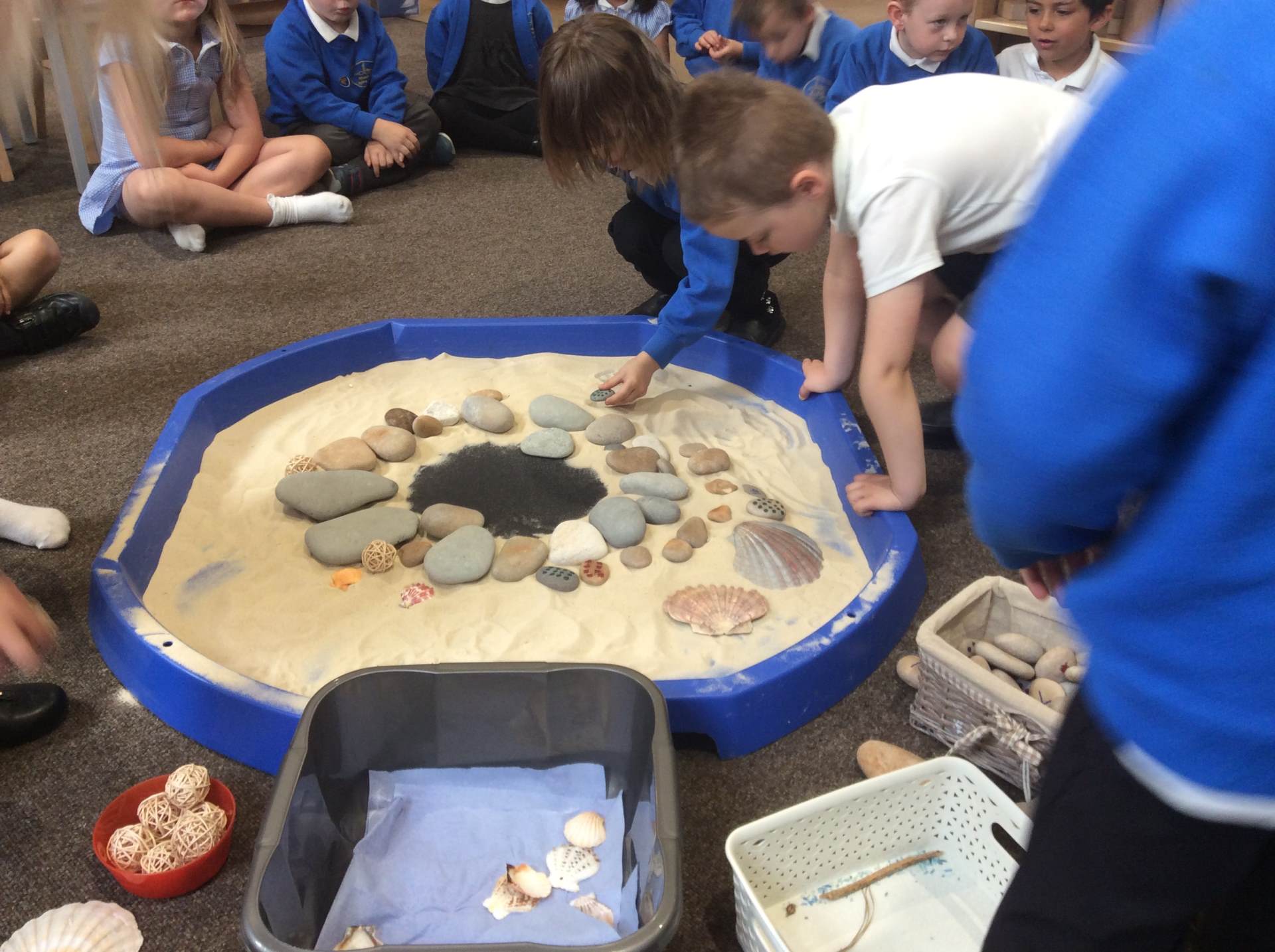 Counting on and adding up totals
We have been busy learning to count on with a number track, looking for numbers and adding to find totals. All of this helps us to be good learners.
Learning to read
Everyday we read in school. In Read, Write, Inc. we read together. Practising reading our sounds helps us to read.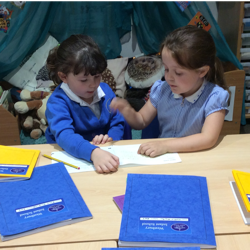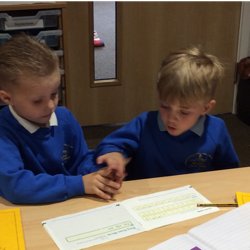 Osbstacle Course
In our outdoor area this week we are making our own obstacle courses. We will learn to time ourselves, count, take turns and enjoy being active.

Seaside art
We are creating pictures using natural objects. Our pictures of the seaside are made using shells, pebbles and gems. Once we have created our picture we take a photo before it is taken apart. Our pictures are amazing!

Learning in June
Following our visit to Boscombe last week we have been busy learning more about the seaside. We have enjoyed using Magic Grandad to explore more activities that take place on the beach and how we can travel there. Next week our stories are The lighthouse keeper's lunch and Portland Bill.
In Mathematics we have been counting objects, recognising numerals up to 20 and beyond. Outdoors the water play, with bubbles and magnets were of interest to many.
We are hoping to set up obstacle course this week and include ribbons to dance with.
We hope you had a happy Father's Day, the cards you made were fantastic. Our next art is creating a seaside collage. Together, we are creating Pebbles around a hole. inspiredby Andrew Goldsworthy.
We look forward to seeing the lighthouses that you make at home.
Keep reading at home.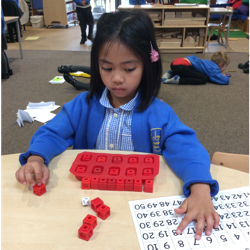 Oh, I do like to be beside the seaside!
Today Sea Turtles and Starfish went to Boscombe for the start of our topic. After watching it rain all the way down to the coast, this stopped as we arrived and we had a wonderful day. The life guards gave us a safety talk, some of paddled in the sea and other played on the beach. Everyone enjoyed an ice pop and we walked up the pier.
We had a fantastic day exploring on the beach and jumping the waves. Thanks to everyone who was involved today. We hope you like our pictures.
May 2019
Food Glorious Food, end of term event
Thank you to all the parents and carers who came to school this afternoon and took part in out "egg -cellent event." It was great to see so many families working together to make a container for an egg, to protect it from it's drop. The children have been busy this term learning about healthy food and where it comes from. We hope you like the pictures of the children learning.
Healthy Breakfast week, learning about shape and the revealing of our new celebration tree.
This week we were learning about eating a healthy breakfast. Lots of us could talk about why breakfast is good for us. Our foody story was the Magic Porridge Pot. On Friday we had porridge to try. Then we made scrambled egg on muffins.
In Maths we continued to explore measure, making a long road using boxes for vehicles, filling and pouring in the water tray and weighing in the sand. On Thursday we listened to the Blue Balloon and went on a blue shape hunt around the trim trail.
Our new school celebration tree was revealed this week. It has been painted by Mrs Rylands and everyone was in awe as it was revealed in assembly.

Learning about shapes
This week we are learning about 2D and 3D shapes. We are using them to make models and describe their properties.
Measuring in Maths
Here are photographs of us learning to measure weight. During the week we were busy comparing heavy and light. The watermelon was heavy, it was also great to taste.
We had a variety of items of food to compare and began to use the scales. Many of us were able to say why the scales went down. Some of us measured with the beads.
Next week we will keep the scales out in our continuous provision to explore more.
Cress sandwiches
The cress that we planted had grown so tall it was time to cut it. We cut our cress and made some healthy cheese and cress sandwiches. We enjoyed eating these together.
This week we are learning about breakfast and our story will be The Magic Porridge Pot. It will be a time to taste more food!
Friday 3rd May
Well done to everyone for completing the Colour Run for the NSPCC. We had lots of fun running with each other. Now we need to remember to bring our forms back!
Thursday 2nd May
Today we have enjoyed looking at the art of Vincent Van Gogh. As a class we looked at Mackerel and Sea Bass, from the fishmonger. Our sketches of the fish were wonderful, we went on to use pastels to include colour and detail. Look out for our work on this page.
April 2019
On Friday 26th April we began our topic of Food Glorious Food with a shopping and cookery day. We started by choosing our ingredients to buy and writing a shopping list.
In Aldi we selected and brought the items to make cheese pizzas and fruit salads.
Back at school we made our pizzas and fruit salads, then ate them together.
In the coming weeks we will be learning more about where food comes from, we will taste food, cook and learn more about healthy eating.
March 2019
Visit to the Egg Theatre in Bath
On Friday 22nd March we enjoyed a visit to the Egg Theatre to watch the "How to catch a star" based on the story by Oliver Jeffers. When we left lots of us said how we loved it. The production with the puppet and star made us go Wow!
On the way to the theatre we walk through the city looking for shapes. It was fantastic to tap, clap and dance with the busker and then have the Wheels on the bus played by the next man. Before we went into the theatre we ate our lunch high up in the building, overlooking Bath.
Learning in the outdoor area
We have been busy with our independent learning. On the theme of Let's Play, we are working well with our friends. The big blocks continue to be popular to build amazing castles. Also, some boys came up with the idea of having a pancake race, which led to an obstacle course. Balls and ramps are fantastic for rolling, water play and counting games.
Our artist this term is Kandinsky and we have started exploring this work with painting at the creative table.
Red Nose Day in Sea Turtles
Thank you everyone who gave towards Comic Relief. We enjoyed coming to school in our own clothes and icing funny face biscuits. Here are some photographs from our day.
A snapshot of our learning so far in March.
Wow, March is turning out to be a busy month for learning. Our topic is called "Let's play" and we have been very active. Our photos include Pancake races, our author visit and theatre workshop. Also, some fantastic number stories, (dinosasurs at the park) and a story map for the Gingerbread Man.
Theatre Workshop - Monday 11th March
Thank you to Becky from The Playhouse in Salisbury, who came to work with us today. We took part in a theatre workshop. We were shown props, like a giant beanstalk from the pantomime. Looking through the coloured gels (plastic sheets), we could see how they change the colour of lights on the stage. Some of us dressed up in the costumes and we were allowed to put on a little fake blood.
World Book Day
Thursday was World Book and we came to school in wonderful costumes. Some of us brought the books to go with our costumes.
We were so fortunate because Mike Brownlow, the author of many books like "Ten little dinosaurs" came to school and did workshops with us. He also wrote "Ten Little Robots" and taught us how to draw one. In our photographs you can see our enthusiasm, when we showed him our pictures.
Today we enjoyed making pancakes.
Tomorrow is Shrove Tuesday or Pancake Day. So, today we learnt about Shrove Tuesday and made our pancakes. We came up with some great spoken sentences to describe how these tasted.
"I like my pancake because it tastes yummy."
"I made a pancake and I put on chocolate sauce. It was sweet and smooth." said Ben.
Welcome to term 4 in Sea Turtles.
Can you believe that we are now half way through our year as Sea Turtles and we have learnt so much already. Our topic this term is called "Let's Play" which is creative, allowing us to create and retell stories. This week we began by visiting The Egg Theatre, in Bath. In the coming weeks a lady from The Playhouse will be visiting to do teach us more about being in the theatre. Our role-play this term is a story theatre and in Starfish it is a puppet theatre, which we can share with each other.
Also, remembering it was St David's Day, we created daffodils using playdough.
It is fun to learn from traditional stories, we have begun to make puppets and today listened to the story of the Runaway Pancake, just in time for Shrove Tuesday.
But Let's play also means creating, making music and playing games in P.E. Take a look at some of our learning this week.
In Maths we have been busy counting to ten and twenty, in a variety of ways.
February 2019
All Around the World Exhibition
Wow, what a turn out for our exhibition. We had worked so hard to put our work together it was great to show our families. A big thanks to those who helped us make our castles. It was fun learning about The British Isles and getting all our postcards. We hope you like looking at some of the photos from the exhibition.
Getting ready for the All around the World Exhibition
This week some of us began working on our class castle for the exhibition next week. Others have been painting pictures of castles and we have been busy writing. Thank you for those people who have sent postcards to us from around the British Isles. We look forward to seeing lots of people at our exhibition on Thursday afternoon.
A day in the life of learning to read and write.
Look at how much progress we have made with learning to read and write since September, when we started school. These photographs were captured on Tuesday.
Learning to measure
This week in Sea Turtles we have been learning to measure in a number of different ways. We have learnt words such as capacity and others one to do with length. We have discovered how numbers are important when we measure.
January 2019
It is a Snow Day - "Do you want to build a snowman?"
"Hello Sea Turtles,
I am looking out of my window and watching the snow come down.
I hope you are able to go out and explore the snow. I am going out to take photographs , which I will share on Monday. I look forward to seeing any pictures and hearing your news on Monday.
I love snowmen or snow angels! Get creative! You could even write in the snow!
If you are staying in the warm maybe you will be making your castle, reading books or drinking hot chocolate.
Take care and have fun and stay warm,
From Miss Jones

We have been writing labels and captions for our castles
This week we have been learning about castles and listening to the story of Jack and the beanstalk. We are learning to use our sounds to write label and captions.
Dance and music
Today we looked at pictures of waves and listened to music based on the sea. We used the Pom Poms to create wave movements.
Learning Maths in Sea Turtles
During January we have been busy learning about numbers and making patterns. Even when it is cold outside we love to be learning outside. The new shop is a popular place to be, using the dominoes or the number target games. We are learning to write our numbers down.
We are enjoying our school library
We have enjoyed using our school library to look at books. Some of us read in the tree house, while others found out about the British Isles, from information books.
On Friday 1st February we will be going to Westbury Library for a story.
Our first postcards have arrived from around the British Isles.
Thank you to those people who have been writing postcards from places around the British Isles. The first have arrived and we have shared them. We will looked for places in the atlas and will now find the places on Goggle Earth. We look forward to receiving more postcards.
Also, it was great to see the first castles come in to school, made by children at home. I hope you are enjoying making these with your families.
A big thank you to Mrs Caldwell, our Welsh visitor, who came in today to talk about the Wales. She showed the children Welsh costumes, daffodils and leeks. They enjoyed learning new words, in Welsh, and listening to a story.
Music, singing and playing instruments.
The Sea Turtles really loved music today. They were singing and playing the woodblocks to the beat of the Grand Old Duke of York. Then they did actions to Head, Shoulders, Knees and toes.
Welcome to a new year. We had a really busy time leading up to Christmas, thank you to all those who supported the events. Now we are into another busy term. The children have now started to begin the topic "All around the British Isles".
Sea Turtles began the topic in Westbury, with the help of Google Earth and then zoomed out to view the British Isles. We are now thinking of how we travel around the British Isles. On Friday the children took part in a dance workshop, in which they danced to Scottish music.
We would like to hear from people around the British Isles. If you have a family member who would be willing to send a postcard or a picture of where they live to the children we will talk about these places in class.
Learning in December
We are now busy learning about Christmas. We have been thinking about giving and enjoyed wrapping for our friends (as a game about including all). Our imaginations have been sparked, thinking about Santa Claus and we have enjoyed playing.
We have loved reading Christmas books in the book corner.
Outside we have been lucky to have new equipment to support our physical activities and imaginative play. This week we have been building with our new bricks and selling food in our outdoor shop.
Christmas counting was all about decorations on the Christmas tree.
Take a look at more photographs, including more from Busy, busy, Bethlehem.
Busy, busy, Bethlehem.
Well done to all the Sea Turtles for putting on our production of Busy, Busy, Bethlehem, our Christmas Nativity. I am sure that all the families who came to watch enjoyed it. The singing was fantastic. Thank you to all those who provided costumes for the children.
Here are some photographs from our Nativity.
November 2018
This term our topic is called "If you go down to the woods today." On Friday 8th November our learning was taken to the woods, as our school trip was in Brokerswood.
Children in Need
Thank you to all the children for supporting Chilldren in Need. The dressing up and spots were fabulous. It was great to share why we were dressed up by looking at a special Powerpoint. The decorated biscuits looked fantastic.
During the day we discovered some of the tiny creatures that live in the wood. We all love working as a team to build shelters and then went on a walk to look for the Gruffalo. It was a fantastic day and a great way to find out about Autumn in the woods.
October 2018
Wow! We have now been in school for a term and we are proud of how you have been learning. Some of our learning for the term can be seen in the slide show below.
Thank you to all people who came to our end of "Marvellous Me" topic event. The childrens' fruit kebabs were fantastic and it was great to be able to share the story of Kitchen Disco in our new library.
October 14th
Sea Turtles had a busy week. We did a lot of learning about our Marvellous Me, thinking especially about our bodies. It was great to see children reading at home. This week we are looking forward to opening our new school library. Our book this week is called Handa's Surprise, by Eileen Browne.
Today (October 4th) we had a visit from Sue, the dental nurse. She told us how to keep our teeth clean. We should brush our teeth 2 times a day, for 2 minutes. We sorted the food that have lots of sugar and can make our teeth or gums bad.
September 2018
This week we have been making sea turtles for our class display. We used blue and yellow to mix our green paint. Take a look at our fabulous work.

Visit to The Victoria Art Gallery, Bath
On Friday we went to the gallery in Bath. It was great to be able to see the portraits on the walls and create our own pictures.
When Miss Jones asked us about the visit one of us said "it was cool"