Bears Blog (Resource Base)
Welcome to our blog! We hope to share all the wonderful things we are learning about in school.

e are very special! We do not spend all of our time in this class - our teachers make sure we are with our friends for lots of activities in our mainstream classes.

The adults in Bears are Mr Mould, Mrs Bowyer, Mrs Mould, Mrs Buckland and Ms. New. They are always happy to talk to mums and dads. They use Makaton signs to help us understand and help us with things we find difficult. Miss Dumbrell, Miss Doel and Mrs Evans help us at lunchtime.
In Bears, we have children from FS, Y1 and Y2 - to see the topic bubbles for each year group that show NC coverage, click here.
Here are our exciting CURRICULUM MAPS for each year group.

Our classroom is bright and colourful. We have a sensory room, which is great for quiet time and a role play area. We sometimes bring our friends from our mainstream classes to share our special places.

Outside we have a covered play area which keeps us safe. We have sand, water play and sometimes the bikes to play with. Some of us go horse riding once a week which is great fun. Please come and see us, we might even let you go in our sensory room!
Term 5
Well done Westbury Infant School for raising £1300.00 for the NSPCC. We are all very proud of you and thank each and everyone of you for taking part.
Welcome back to term 5, a short, but very busy term. All the children have now been on a trip to introduce their topic. Year R went to Aldi, Year 1 to Warminster park and Year 2 to The Matthew and M Shed in Bristol. Please look at the hedgehogs blog for the Warminster park photos. Enjoy the Year 2 photos below.
March 2019
Happy Easter
No photos this week, but a sincere Happy Easter to all the Bears and their families. I hope you all have a well deserved rest and have some Easter treats along the way. Take lots of care during the Easter break and we will look forward to seeing you back at school on Tuesday 23rd April, when our exciting new topics will begin. Hopefully the sun will shine throughout the holiday and for the new term 5.
A very busy week.
I hope you have all enjoyed the wonderful Mother's Day assemblies. The Bears worked really hard on their different art work and learning their special songs. Have a great day on Sunday and hopefully you will be treated to a very special time.
The daily curriculum has continued as usual and the Bears are trying really hard in their English, maths and topic work. Please enjoy some photos of some of the Bears working on their maths activities.
World Book Day 7th March 2019
Last week was a very busy week for the Bears class, and our Blog had pictures of the Reception children making and tasting pancakes. Although a little late, please now enjoy some pictures from our very interesting World Book Day, when the children had a visit from an author, completed a workshop with him and had lots of different activities going on in the mainstream classes. There was also lots of amazing costumes, so well done Bears for dressing up in a costume of your favourite book character and for participating so well in the days events.
This week has seen pancake day, and all the children, across all the year groups have had the opportunity to follow a basic recipe and cook a pancake. They then tasted their wares. Please see the Reception class Bears photos below.
Welcome back to all the Bears, we hope everyone had a lovely break from school and are now raring to go with their new topics. The topics are:
Reception - Let's Play
Year One - Superheroes
Year Two - Grow Your Own
This week the children have been introduced to their topics and everyone has taken part in introductory trips or special days.
The reception children have had a visit to the Egg theatre in bath and watched Muckers. All the Bears were really well behaved and enjoyed the coach journey, lunch time and the actual play. There are no photographs as we were asked not to take photos within the auditorium.
Year One had a fantastic 'Superhero' day at school, with great costumes and fun activities.
Year Two enjoyed a variety of workshops and an interesting walk to the 'Sunken Garden' in the Churchyard.
See photos below, but don't forget to also look on your child's mainstream class blog.
February 2019
The Year One children have been cooking Pizzas in preparation for the Around the World Exhibition. Their topic has been all about Italy and the culmination of their learning was 'How to make a Pizza' during an afternoon of cooking. Great fun was had by the three boys, and they worked hard on creating a tasty pizza. Please enjoy the photos below.
In PSHE, we were thinking about people that care for us at different times. We thought about who does this important role in school, at home and in the outside world. Lots of discussion and ideas were then recorded on sugar paper - we certainly thought of lots of examples.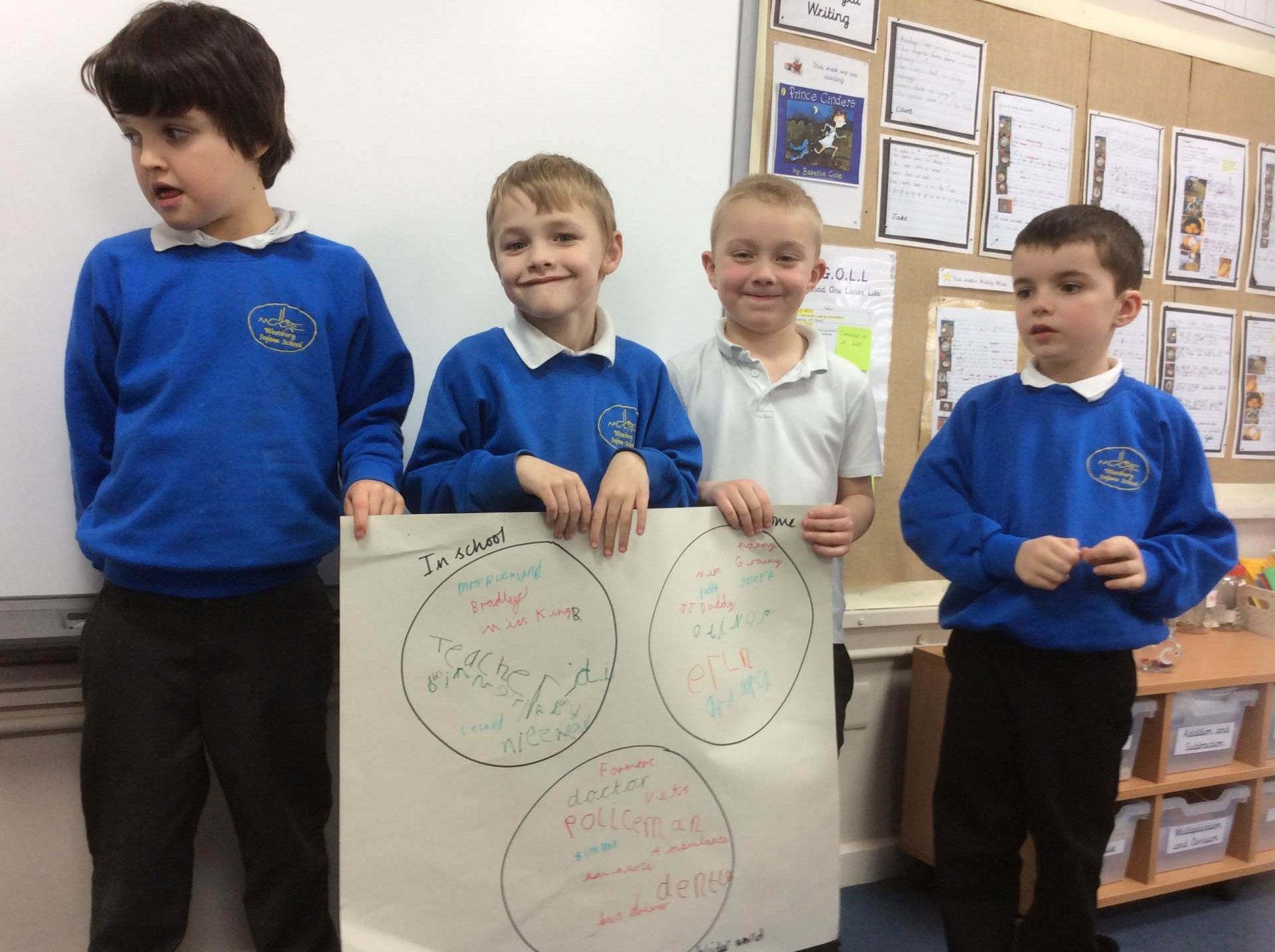 Year Two children have been learning all about China and this week they have focused on learning about Chinese food. The children have tasted a range of foods - Prawn crackers, Seaweed, Rice noodles and Egg noodles. Well done to all the children for having a taste of these unusual foods - enjoy the photos below.
January 2019
Winter trees
All the Bears class have been thinking about Winter and discussing the different signs of the season. Please enjoy looking at the beautiful pictures we have made.
Dance workshops
The children had lots of fun learning a new dance. Each Year group were able to perform a dance from the country they are learning about. Everyone had fun and were able to move to the music.
Welcome back Bears to a brand new year at Westbury Infant School, 2019.
Happy New Year to you all!!
All the children have returned to school happy and healthy and it seems that everyone had a lovely Christmas and a well deserved break from school. Now we are all ready to start a new topic - All Around the World.
Reception are learning about Great Britain.
Year 1 are learning about Italy.
Year 2 are learning about China.
The children from Bears class will continue to join their mainstream class for topic and for other learning when it is appropriate. They are always supported by the RB TA's or teacher and have already produced some good work.
Today the children have had a great introduction to the topic with different dance sessions relating to their particular country. Everyone joined in with enthusiasm and hopefully this has stimulated their desire to learn more about the different places in our world.
Don't forget to look on your child's mainstream class blog to see pictures or video of the dance sessions, and pictures will follow on our own blog too.
I hope your children enjoy their new topic and maybe they could even do a little research of their own.
December 2018
Please enjoy some Christmas photos. I'm sure you agree they look 'very sweet'.
November 2018
Christmas plays are in full swing!
The children are now fully engrossed in practising and performing their Christmas plays (photos to follow). The Reception children are performing Busy, Busy Bethlehem, the Year One children are doing A Little Bird Told Me and Year Two are performing Lights, Camel, Action. I hope you are able to come and see at least one of your child's performances.
The RB children have also been completing lots of Christmas artwork in preparation for the BIG day look out for their decorations, tags or biscuits (depending on your child's year group) in the Christmas Market. They have particularly enjoyed taking part in role play activities, dressing up as elves, Father Christmas and reindeer.
The Bears visit We the Curious
Please enjoy the photos from our recent visit to Bristol.
Monday 26th
Sorry for the lack of pictures and new entries. There have been a few problems on the Bears Blog, but hopefully these will be sorted shortly.
The children have been working well, since the last posting. They are joining their mainstream classes to complete a variety of topic work, but also for practising the Christmas play songs. All the children have now been assigned a part in the various plays and they will be practising them from next week. Posters are now in the windows to let you know when the plays take place.
Remembrance picture restored
All the children created a piece of poppy artwork to commemorate Remembrance Day on the 11th November.
Welcome back to term 2.
The children have returned to school full of excitement and enthusiasm. We have already been on our school trips for this term - Reception went to Brokerswood, Year One went to the Fire Station in Trowbridge and the Year Two children went to We the Curious in Bristol (look out for pictures over the coming weeks). All the children were well behaved and did their school proud!
On Monday 12th of November the whole school had a Remembrance Assembly, led by Mrs Budge. It was lovely to see the children listening and responding in a respectful and understanding way, to a subject that is quite difficult for younger children to fully appreciate. Well done all of you. The children also made pictures and wreaths in commemoration of all the men and women who have fought in order for us to have better lives.
Today, Tuesday 13th November, the children have had their school photograph taken, so look out for the order form in the next couple of weeks.
October 2018
Autumn Term 2
Monday 15th October
Happy Monday to everyone. Just a quick update to keep you informed.
The children across all 3 year groups have continued to work hard in both their mainstream class and in the Bears classroom. Displays are now completed, showcasing some of the lovely work they have completed and hopefully you will be able to see this work when you come to parents evening (Wednesday and Thursday of this week).
All the children are taking part in Read, Write, Inc. lessons after assembly and the Reception children are now getting very familiar with the daily format. Following morning break the children complete a maths session, before lunch time at 12. Afternoons are devoted to topic based learning, including PE, music, art and design and history and geography. Again, as you already know, some of this learning takes part in the Bears classroom and some with the children's mainstream peers.
This week is looking particularly exciting with the opening of our new library on Wednesday, I'll say no more as I wouldn't like to spoil the surprise.
See you all on either Wednesday or Thursday for parent consultations and have a lovely week.
Friday 19th October
This week saw the opening of our magnificent library and the children were thrilled to use it on Thursday and Friday. We owe a huge thank you to Mrs Rylands who has painted fabulous pictures of different fairy tales and well known stories around the room. We also need to say thank you to our caretaker, Anthony, for his incredible construction work, and also many thanks to Mrs Newbury and Mrs Budge for their hard work and vision.
If you haven't yet had the delight of visiting the library, please take a look as soon as you can - you will be amazed.
Please enjoy the slide show below.
Wednesday 24th October
Thank you to all the parents who were able to come to the 'end of topic' events this week. I think you will agree that the children have worked really hard this term and produced some very pleasing work.
We in the Bears class have especially enjoyed going into our mainstream classes to join in with the interesting work that has been going on. Thank you to all the mainstream teachers for their inventive topic ideas and their great activities. The Bears look forward to starting a new topic in November - see the website for the different year group topics.
And now I wish you all a very happy holiday from all the Resource Base staff. Stay safe, have fun and we'll see you again on Tuesday 6th November.
PS Don't forget that on Friday 9th November all the children will go on their next school trip. So there's lots to look forward to after the holiday is over.
September 2018
Autumn Term 1
Welcome to Class 5 and 6, otherwise known as the Bears Class.
We hope you have all had a lovely summer break and feel ready and raring to go in this new academic year. All the Bears have returned to school happy and well, including the new Reception children, who have settled like the little superstars they are. The children are now attending school full time and have already had time in their mainstream classes.
We have lots to look forward to over the coming months, not least of all our school trips next Friday (21st). Reception children are going to Victoria Art Gallery and Museum in Bath, Year 1 children are going to Warleigh Farm near Bath and Year 2 children will visit Westbury White Horse. All these trips support the different topics in each year group.
We look forward to keeping you informed of all the different things we do in school, so visit our Blog regularly and enjoy.
Don't forget to also visit the Blogs of your child's mainstream class for more information and photographs.
Year 2 trip to Westbury White Horse
The children had a wonderful time on Westbury White Horse, despite a few showers here and there. The views are spectacular and the windy weather was exhilarating. The children drew some lovely pictures and went for some very interesting walks. When they returned to school the children's kites flew really well in the windy weather. I think they are all looking forward to the next trip already.
Year R trip to The Victoria Art Gallery
The Reception children had a lovely time in Bath on their very first school trip. The children travelled to Bath on the coach, and on arrival their first port of call was a walk around the gardens in the centre of the city. Following a lovely look around and a well deserved snack, they then spent time in Victoria Art Gallery, where they could look at and discuss the paintings and then make a picture portrait of their own. All the Bears were very well behaved and had an enjoyable time.