Badgers Blog(Y1)
Welcome to the our blog! We hope to share all the wonderful things we are learning about in Year 1.
Our Class Teacher is Mrs Watts and our Teaching Assistants are Mrs Bray and Mrs N. Smith. Click here to see our topic bubbles for each term showing NC coverage.
Here is our exciting CURRICULUM MAPS FOR 2018-19.
May 2019
Spots, spots and more spots!
This week, in art, we have been learning about the artist Georges Seurat who was a French painter famous for his pointillism style of painting during the impressionist period. Pointillism painting is created using lots of tiny dots of primary colours, placed in close proximity to each other. When viewed at a distance, the human eye mixes the individual dots together into areas of solid colour to form an image but up close you can see the individual tiny dots of colour. It's a bit like magic!
We have looked at one of his most famous paintings called, 'Sunday afternoon on the Grande Jatte,' which took Georges Seurat 2 years to paint! We couldn't believe it. That really is a lot of dots!
During the week we had a go at using pointillism techniques of combining the coloured dots to make new colours, blending and shading.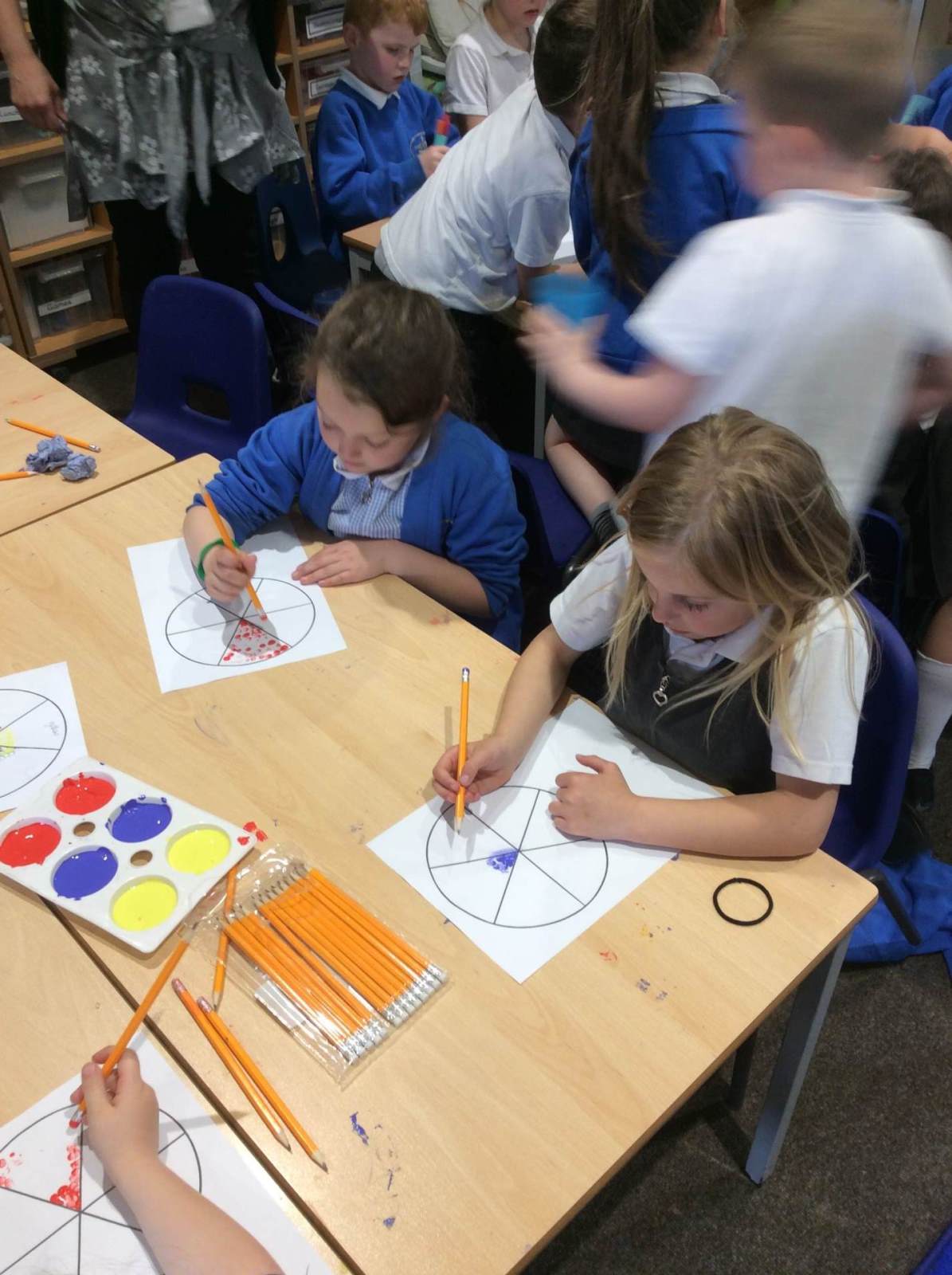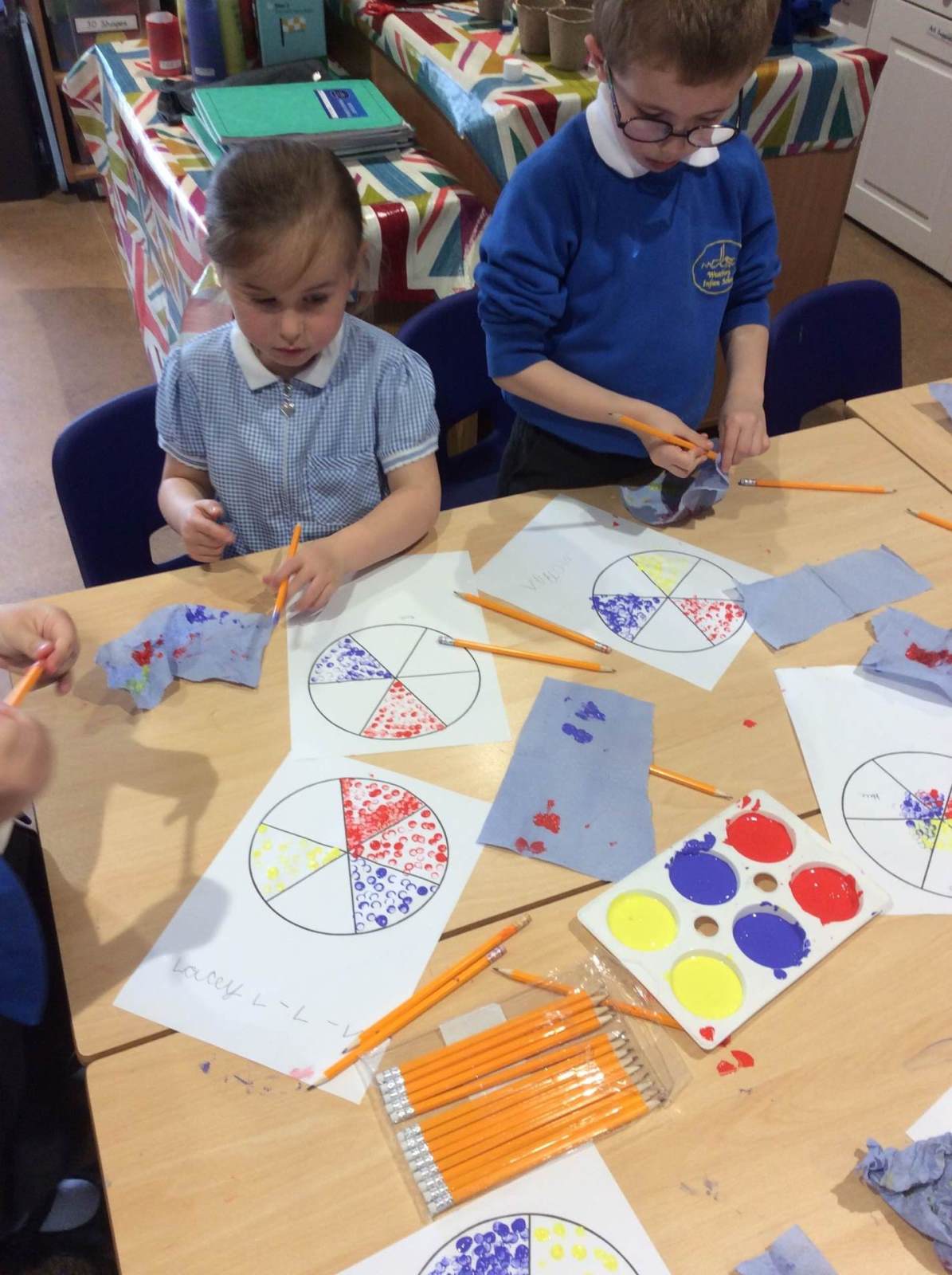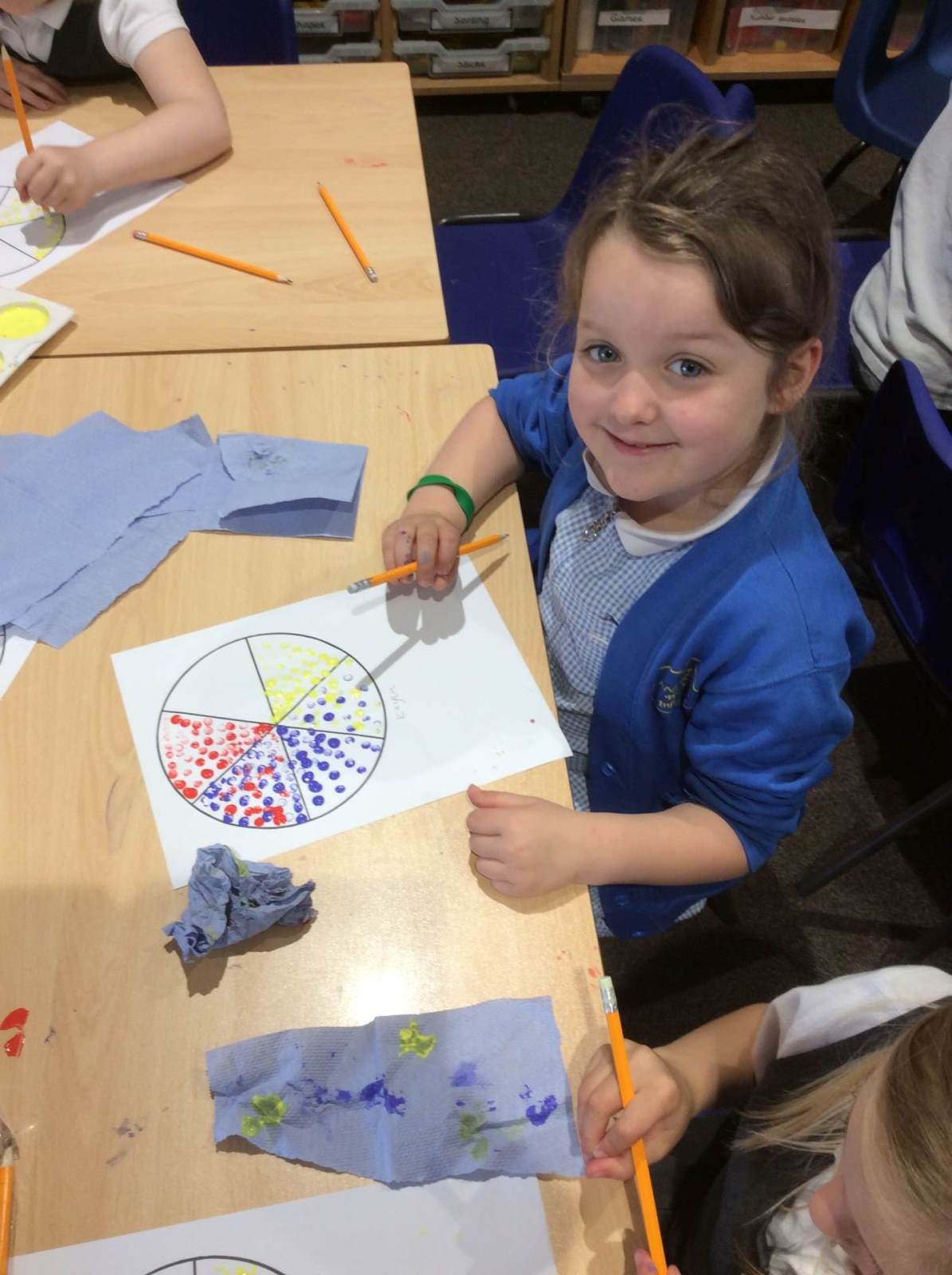 On Friday, we started to make our own pointillism pictures of a pond in a park but they are not quite finished yet. It takes a long time to fill a pictures with tiny dots!
April 2019
Super Science
This week we have been busy learning about plants. We used the magnifying glasses to look closely at a range of different seeds and identified the similarities and differences between them. Some seeds were small and round, like the mustard and cress seeds, and some were much bigger and ovoid in shape, like the broad and runner bean.
We found out that plants need water, soil and sunlight to help them to grow and we decided to see if we could grow our own sunflowers or broad bean plants. We also decided to conduct an experiment to find out what happens to the plants if we remove one of the three elements needed for growth. We have put one of our plants in the cupboard to see what happens if we remove sunlight; we put one in an empty pot to see what happens if we remove soil; and we decided not to water one to see what happens if we remove water. We then made predictions about what we think will happen and we will test these ideas at the end of term once our plants have started to grow.
We looked carefully at the different parts of a plant and worked together in groups to create a labelled diagram.
Towards the end of the week we compared wild plants to garden plants and we were given eight pictures of different plants which we had to sort and classify. We worked collaboratively again to create our own branching databases to classify the plants.
To end our busy week, we all took part in the colour run. It was great fun but also very tiring as we had to run around the trim trail several times!
Park Keepers for the day!
On Friday we took the train to Warminster, walked to the local park and became park keepers for the day. We had a lovely time finding out about the work of a park keeper and pulling up the weeds and dead flowers from the flower beds so that new flowers can be planted. After lunch we went on a tree trail and found out about deciduous and evergreen trees. Deciduous trees shed their leaves in the autumn and are completely bare over winter. They then grow new leaves in the spring. Evergreen trees have leaves throughout the year that are always green. There were lots of different variety of trees at the park including a very old oak tree which had once been struck by lightning! We finished our trip off at the play park on the swings and slides. It was lots of fun!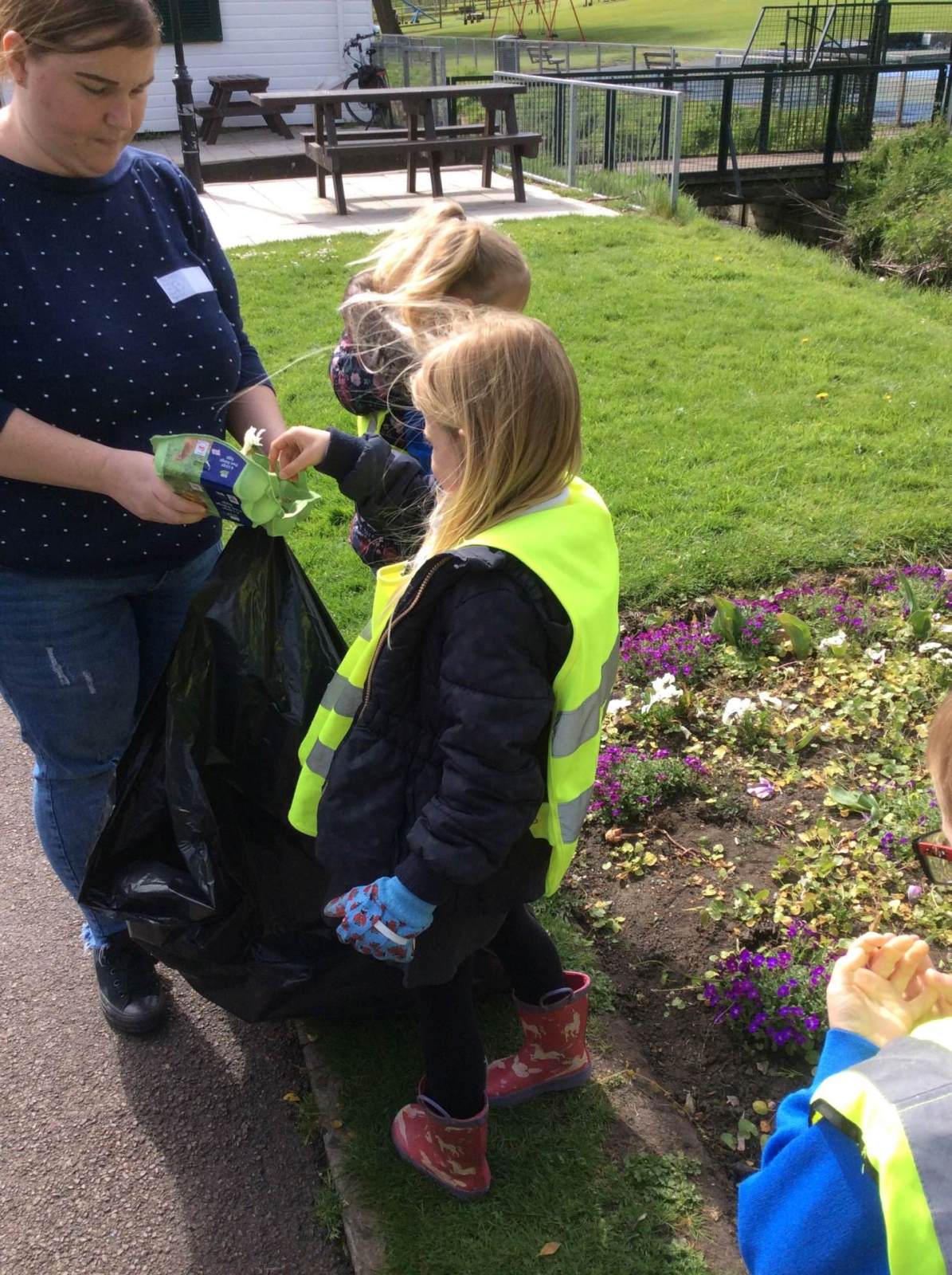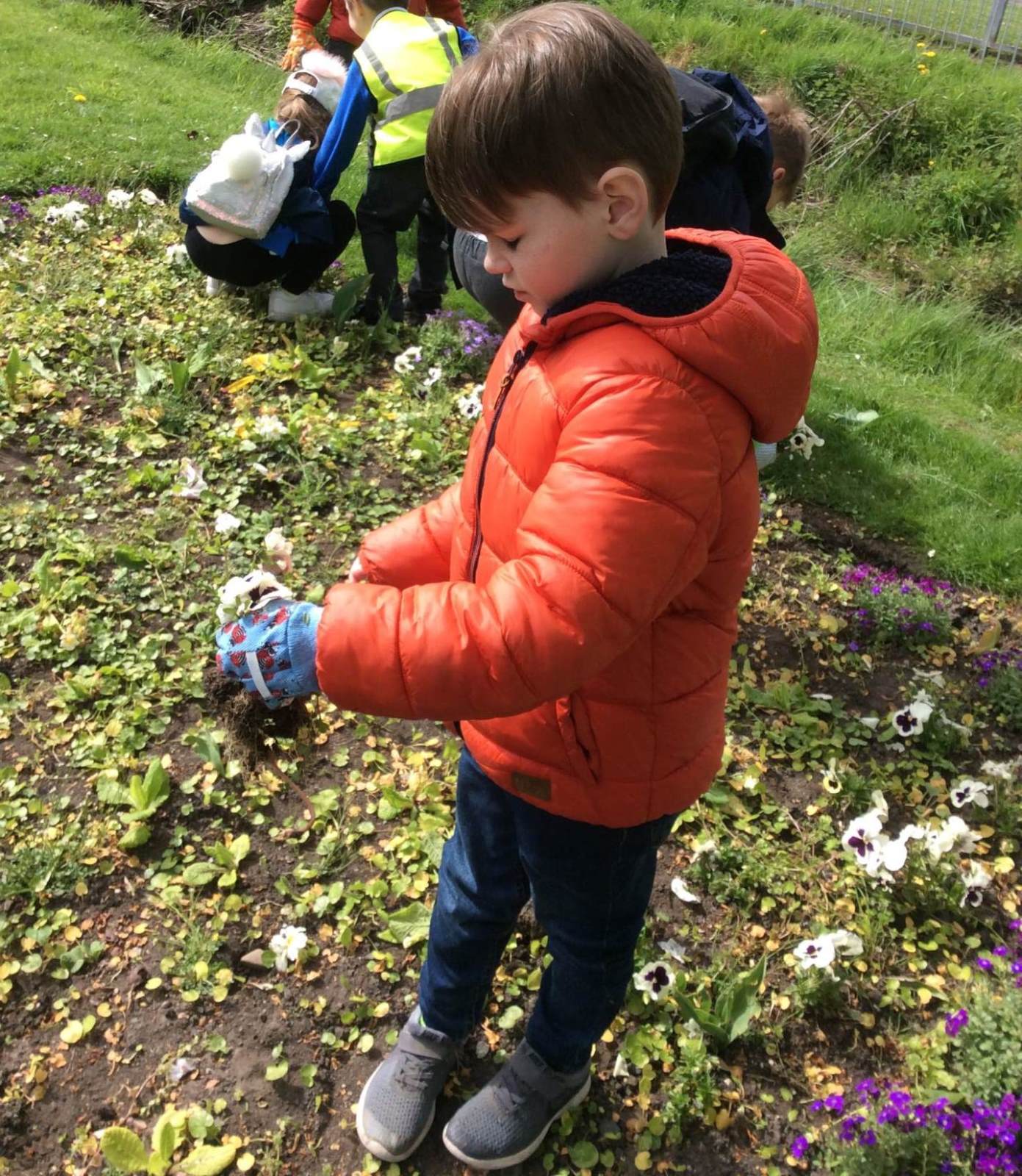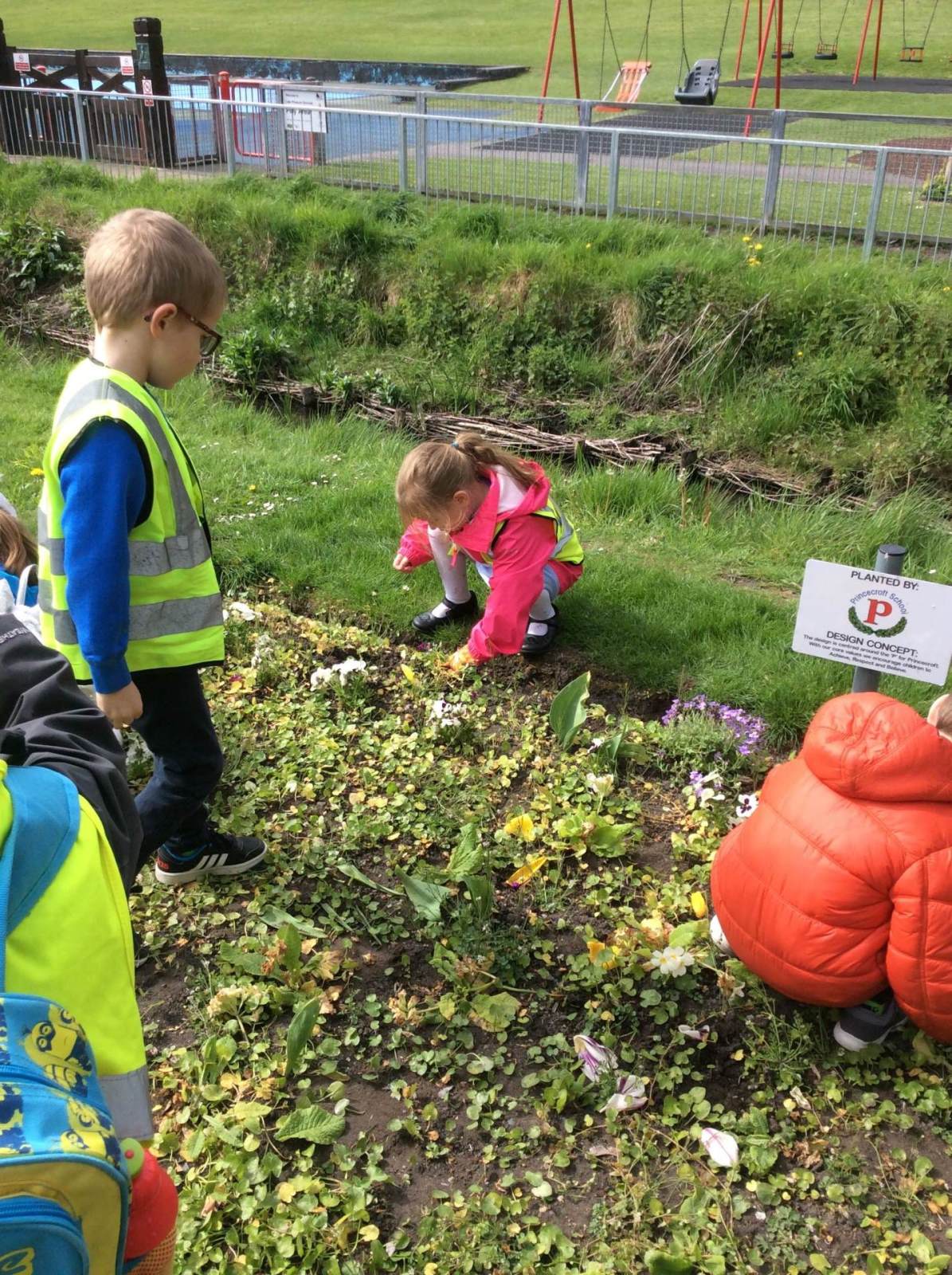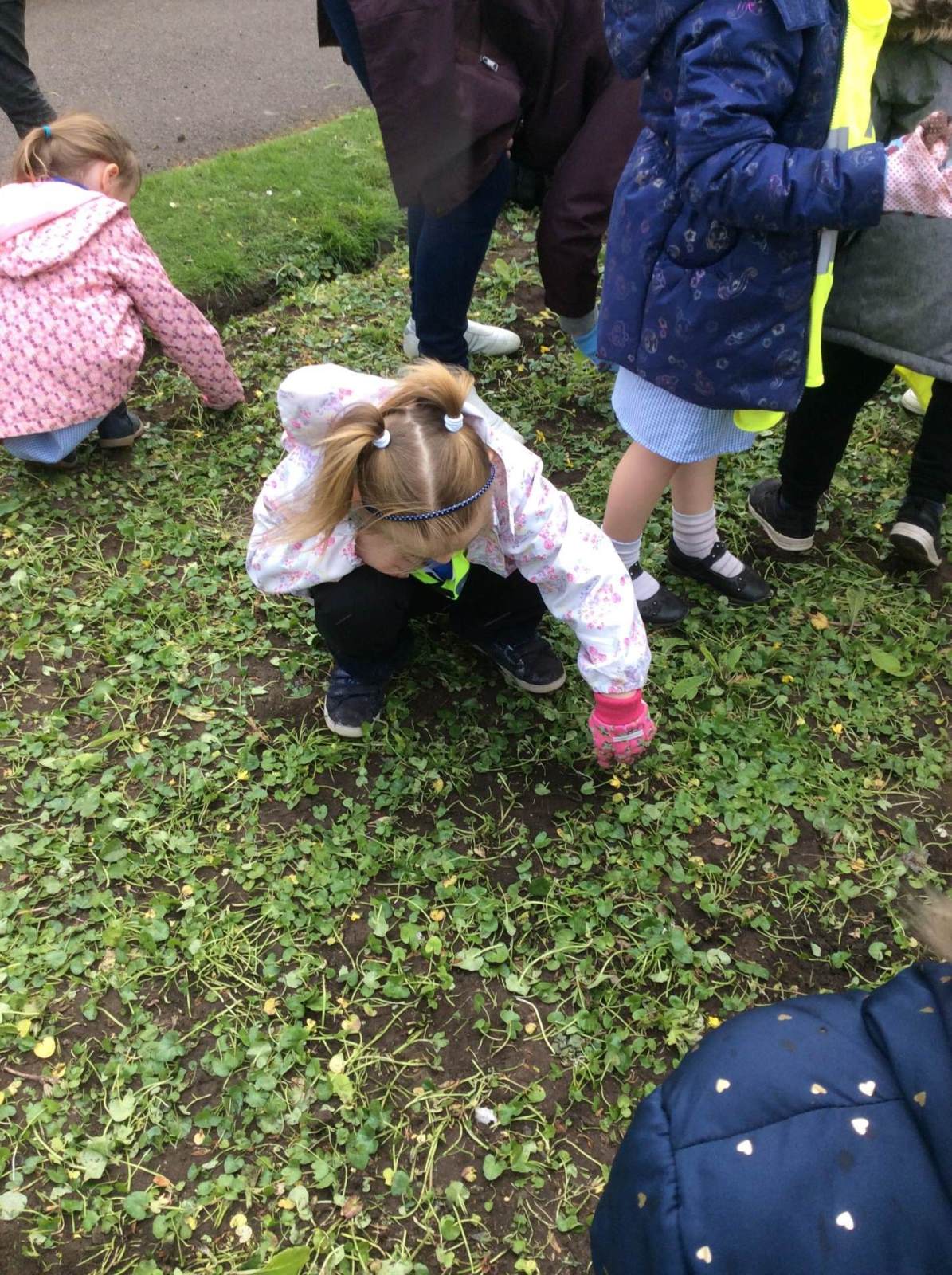 Superheroes
We had an incredible Superhero event to which a large number of parents came. It was fantastic to see so many people measuring, describing, reading about and making Superheroes with their children.
Please see pictures below.
Finally I would like to wish all Badger Class children, parents and staff all the best for the future. It has been an absolute pleasure to be involved with this incredible class and I know that all the children will have a super end to the year. Thank you for a great year,
Mr P.
March 2019
Moving pictures!
This week we completed our DT project to create moving pictures of a superhero flying across the sky to the rescue.
We used our designs from the previous week to draw and cut to make this magical scenes. The most exciting thing is that the superhero flying to the rescue is us! We used photos of ourselves taken on our wow day to complete the image of us flying to save the day.
Please see our stupendous superhero moving pictures below.
Magical maths.
This term we have been concentrating on measuring length and weight. The children have really enjoyed some of the more practical sides but have risen to the challenge of problem solving and reasoning as well. It has been a great opportunity to introduce centimeters when measuring length and to use a range of non-standard units within weighing. We are all really looking forward to looking at capacity in the coming week. Please see photos of us measuring different weights below.
Red Nose Day.
We wore our own clothes into school on Friday. We also brought in a pound to raise money for this great cause which helps charities and organisations around the UK.
We have also completed our learning on how to measure heights and lengths. We have moved from using cubes and other non- standard measures to using a ruler to measure objects around the class. All the staff have been very impressed with how accurately the children have used all of the equipment across the last three weeks. Next week we are moving onto measuring weight and if we show the same accuracy we have done so far it is going to be a fantastic end to the term.
World Book Day.
There were so many incredible costume on World Book Day everybody from Mary Poppins to Burglar Bill came to visit. We undertook a range of activities including a special maths lesson in which we had some huge footprints around the class. These had been left by the Giant from Jack and the Beanstalk. We also were very lucky to have a special visit from a famous author, Mike Brownlow, who taught us how important different, exciting characters are in our stories.
Everybody involved had a really enjoyable and enriching day.
Please see our photos below.
Superheroes have arrived in Badgers Class!
The teachers and TAs had a really exciting surprise on Friday morning when we opened the door to see that so many incredible superheroes had come to visit for the day. It created an amazing start to our topic of superheroes this term and was enjoyed by adults and children alike. Activities included writing to the story of brave Supertato who saved all of the vegetables in the supermarket, making cards for the real superheroes in our lives and making a vegetable version of our superhero. Please see these sensational superhero recreations below.
February 2019
The recipe for success!
We cooked some incredible Spanish Omelettes to go with our round the world exhibition.
We all had a go at whisking the eggs and carefully cutting and adding the vegetables to the mixture. It was really enjoyable and the omelettes were delicious. Everybody who wanted was able to try some and there were other options available who didn't. It certainly gave us a real taste of Spain.
Please see some of our exciting cooking photos below.
Creating a fabulous flag backdrop!
We used the music of Spain as inspiration for an incredible piece of performance art. Combining the the energy of flamenco, the excitement of the paso doble and the incredible fun and happiness of the fandango. The dances of Spain are truly world famous and we used them to create a fantastic backdrop for our Spanish display at the round the world event next Thursday. The children used paint brushes to flick small amounts of powder onto the wetted paper in time to the music. It created a piece of performance art that reflected the magic of these dances and of Spain itself.
Hot and dry Australia!
We wrote postcards from Australia describing what can be seen in this incredibly hot and dry land.
We are really enjoying our topic of all around the world and the chance it has given us to see life in a number of different countries as well as our main country of study, Spain.
Please see a selection of our incredible postcards below.
January 2019
Gorgeous Gaudi Lizards!
Over the past couple of weeks, Badger Class have been very creative with Mrs Newbury. We've been learning about Antonio Gaudi and his amazing architecture, especially his mosaic lizard fountain in Parc Guell in Barcelona, Spain. He designed some spectacular buildin
g in Barcelona which were inspired by nature and the outdoors. We all thought he was a brilliant architect, even though he preferred to make models of his ideas rather than draw them.
First we designed our lizard while practising forming and shaping using plastercine. Then, we used clay to sculpt our very own lizard using Gaudi's as inspiration. We managed to get some super detail in our models while keeping true to the original.
The nest stage once the sculptures had dried was to create and apply mosaic tiles which were actually cut out of wrapping paper! Using lots of PPA glue to stick the tiles, we then gave a generous covering of glue to seal them and when they have dried completely, it will make them really shiny and gorgeous.
Here are our finished Gaudi inspired sculptures which we will be showing in our Around the World exhibition on the 14th February where parents and carers are invited to share all our fabulous learning on this exciting topic.
Spanish Writing!
This week Badger Class have produced some incredible writing all about what can be seen and done in our country of study this term, Spain.
We will put up a selection of this work on the blog and even more will be able to be viewed at our exciting round the world parents event at the end of term.
There will be food and many enthralling exhibitions from a variety of countries from all around the world.
Gaudi's Lizard Fountain art!
This week Badger Class made some lovely recreations of Gaudi's Lizard Fountain using plasticine. We carefully observed the original and have used key features to produce our own take on this unique work. This is in preparation to start to reproduce this iconic piece of art in clay over the coming weeks.
Please see some of the incredible work that we were able to make below.
On Friday all the children in Badgers Class were extremely lucky to be able to do a Spanish themed dance with professional dance coach, Hollie.
It was full of fun while challenging and everyone in Badger Class worked outstandingly hard to master the routine.
Please see the gallery below to see what a fantastic experience it was and how much work everyone put in.
We had an very good start to the school year and all enjoyed the incredible events that we were able to do around Christmas and our topic.
The teachers, TAs and students are all really looking forward to the New Year and all the incredible opportunities that it will bring.
December 2018
Christmas!
This week we have been enjoying a variety of Christmas writing, maths and crafts.
It has been lovely to show off what we can do with setting and character descriptions. We have really tried hard with our sounds throughout the Autumn term and we can now write some really wonderful sentences.
We used lots of sequins and glitter to make our Christmas crafts. A lovely sparkly way to finish off the term.
Have a very happy Christmas everyone and see you in January for more fun and learning!
November 2018
Yoga!
This week year 1 have all been trying yoga to practise our static balances. We worked incredibly hard and a number of us were able to come to the front to demonstrate our incredible yoga positions in front of all of the year.
Magnificent materials!
This week we have been learning all about different materials and their properties.
We did several experiments to see if we could describe the materials to each other. It was enjoyable and also helped us to learn about the properties of those different materials.
Look at the gallery below to see the fun that we had exploring the material world.
9.11.18
We had an incredible visit to the fire station today.
We all really enjoyed finding out about what life is like for real firefighters. We saw all of the equipment that allows them to do their incredible job and we all got to use the hose to squirt water. It was so exciting and an incredible experience to have had. It will allow us to really be able to think about fire and what it is like when we are doing our history topic of the great fire of London.
We also went to the town park where we studied what materials we could find there. This was for our science which is going to be all about materials this term.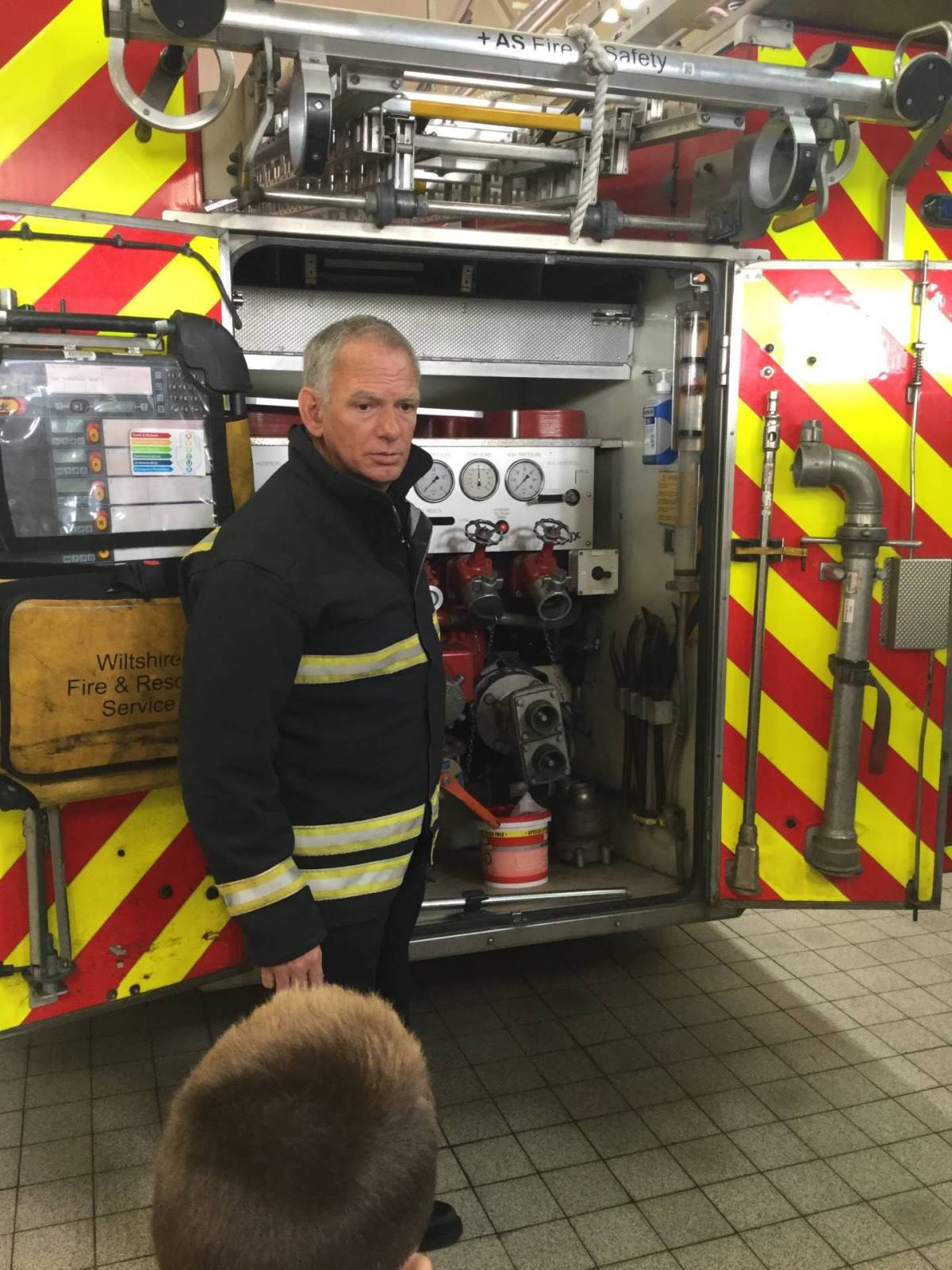 October 2018
29.10.18
We ended the term with another fantastic parent event. It was a chance for all of the parents to experience and share the excitement of rainbow challenges with us. We were able to show our adults the incredible tasks that we undertake at the end of the day and that have enabled us to make such a fabulous transition from Reception to Year 1.
Please see pictures below to relive some of the excitement of the day and we look forward to seeing you all at our next stunning parents event!
We hope that you have and continue to have a restful half term and we are all looking forward to an amazing start to our new topic with the trip to Trowbridge Fire Station on Friday evening.
19.10.18
This week saw an incredible event in the life of the school, the opening of the new school library. The culmination of many hours of hard work has created a fantastic space for children to appreciate the magic and wonder that can come from reading. We really want all children to be ale to appreciate how exciting reading can be and we feel that a space like the new library should be an incredible resource in fostering this feeling. We were incredibly lucky to have a very famous author open our new library. EIleen Browne also gave us a workshop on how she writes her exciting books and we got a sneaky peak at a book that hadn't even been published yet. What an exciting day!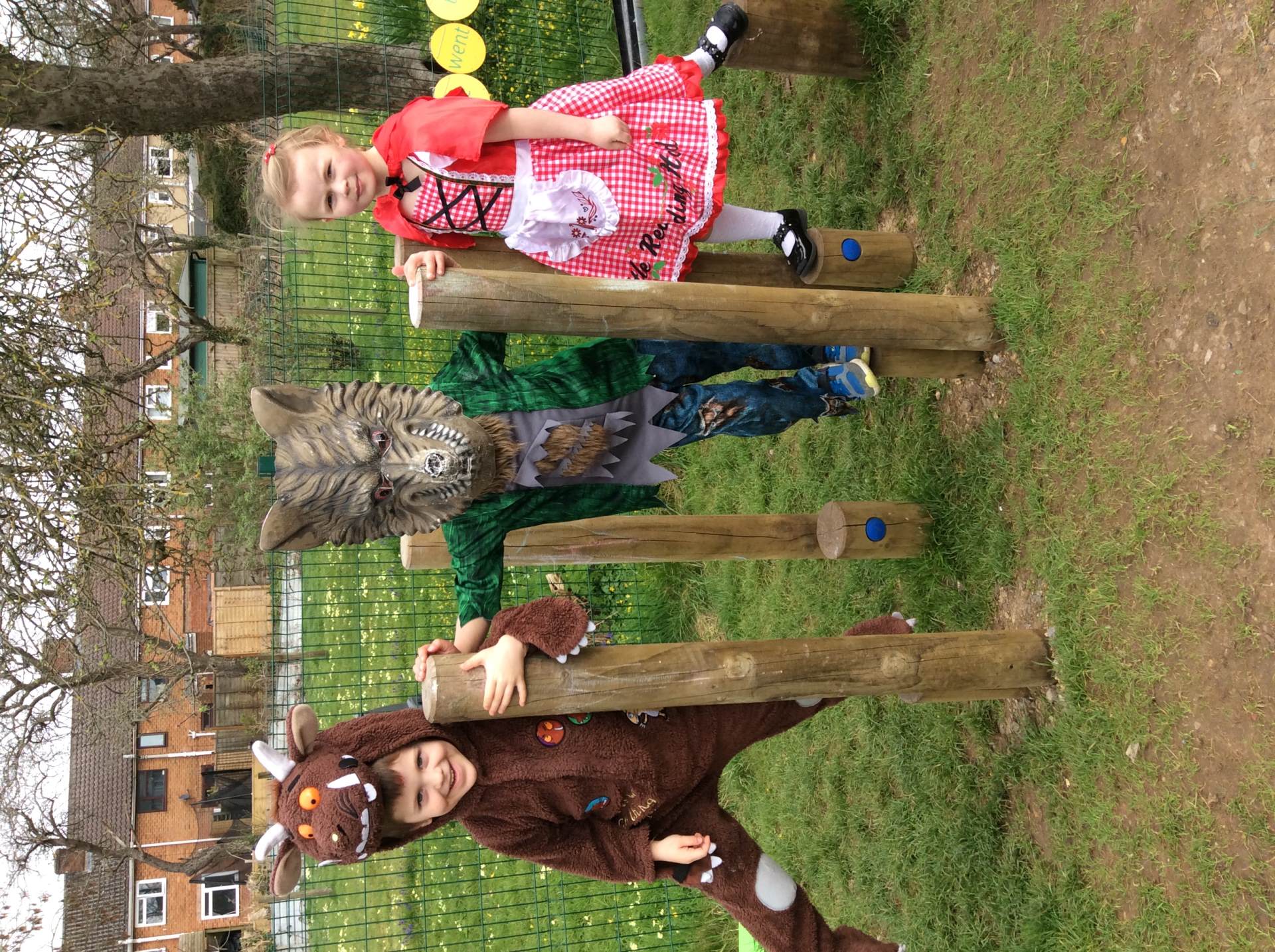 12.10.18
This week Badger Class have been working extremely hard on continuing our fantastic artwork using the inspiration of Giuseppe Arcimboldo. We have used lots of different kinds of fruit and vegetables to recreate our own faces. We have really enjoyed the process of making this exciting art and really look forward to you being able to see many of our outstanding pieces of artwork when you come to the parents evening in the hall next week.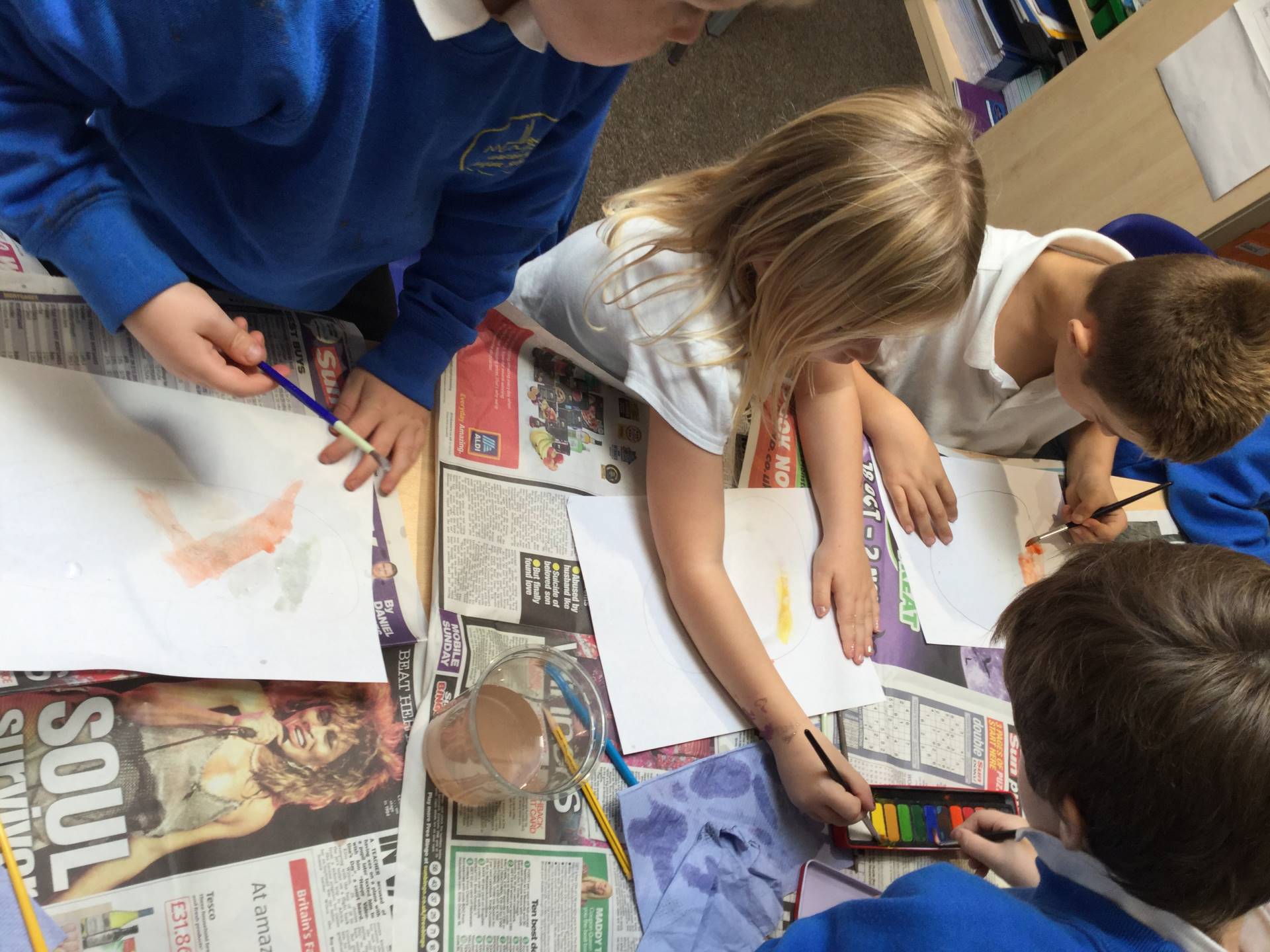 5.10.10
We have had a fantastic time this week recreating our own version of Giuseppe Arcimboldo's famous vegetable face paintings using a variety of different fruits and vegetables. The children really concentrated on looking at all the different vegetables and talking about the shapes, colours and textures. We discussed what part of the face each vegetable would make best. We are very proud of the end products. Well done Badger Class!
September 2018
We have had a super start to the term and have really enjoyed our new class room. We are really looking forward to our first trip to The Farm to go with our topic this term.
28th September
We have had another fantastic week. On Tuesday we got to meet Harold on the life education bus. It was an incredible experience and all of the children really enjoyed it.
Harold taught us all about looking after and caring for our bodies.
It was an incredible experience and we all learnt so much.